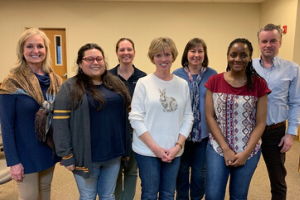 As a non-profit, Tangram relies on your generosity to help us create extraordinary lives for the individuals we serve.
There are many ways for you to get involved and make a difference as a Tangram volunteer, including*:
Board Membership
Office Support (front desk, filing, special projects, etc.)
Event Volunteers (annual Halloween party, holiday gift wrapping, board retreat, etc.)
Activity Leaders (painting, healthy cooking, gardening, etc.)
Book Club
Music Club
Build a Friendship (volunteer one-on-one with a Tangram client)
More!
If you are interested in learning more about volunteer opportunities at Tangram, please email Lindsey Hill or call her at (317) 968-9048.
*Please note that some volunteer activities may be on hold due to the COVID-19 pandemic.
Virtual Opportunities
To preserve the health and safety of our clients, staff, and volunteers, Tangram is focusing on virtual volunteer opportunities at this time. We currently have needs for the following volunteers:
Bible study leaders
Bingo callers and assistants (1st and 3rd Monday of each month at 6pm via Zoom or Teams)
Book club assistants (2nd and 4th Monday of each month at 6pm via Zoom or Teams)
Zoom buddies (individuals paired with clients to form virtual friendships)
Other activity leaders: do you have a hobby or interest that you can share with Tangram clients virtually? Art, knitting, crafts, physical fitness, cooking, etc.? If so, we want to hear from you! Tangram is trying to increase access to virtual activities for our clients until we can all be together again, as well as offer ways for our clients to meet new people and make new friends! If you have an idea, let's chat about how we can make it happen! Contact Lindsey Hill at (317) 968-9048 or lhill@thetangramway.org to get started!
By clicking the blue "Apply" button, you will be taken to a secure online portal with our volunteer application. If you experience difficulties or have questions, contact Lindsey Hill at (317) 968-9048.
Internships
Contact Ponda Sullivan at (317) 968-9054 for more information about current internships and how to apply!

Submit Volunteer Hours (Existing Volunteers)
When you click the button below, you will be taken to an online form where you can submit your volunteer hours for the month.