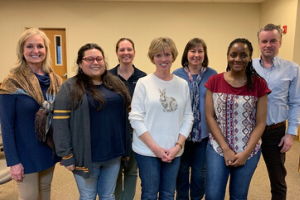 As a non-profit, Tangram relies on your generosity to help us create extraordinary lives for the individuals we serve.
There are many ways for you to get involved and make a difference as a Tangram volunteer, including:
Board Membership
Office Support (front desk, filing, special projects, etc.)
Event Volunteers (annual Halloween party, holiday gift wrapping, board retreat, etc.)
Activity Leaders (painting, healthy cooking, gardening, etc.)
Book Club
Music Club
Build a Friendship (volunteer one-on-one with a Tangram client)
More!
If you are interested in learning more about volunteer opportunities at Tangram, please email Lindsey Hill or call her at (317) 968-9048.
By clicking the blue button, you will be taken to a secure online portal where you will be able to view all of Tangram's available jobs and volunteer positions. Volunteer positions appear at the end of the list and contain the word "Volunteer" in the title. You can click any volunteer position to apply. If you experience difficulties or have questions, contact Lindsey Hill at (317) 968-9048.
Internships
Contact Lindsey Hill at (317) 968-9048 for more information about current internships and how to apply!