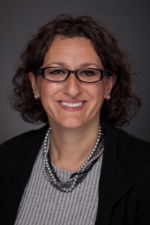 Stephanie Buttler, Director of Behavioral Health
e-mail: sbuttler@thetangramway.org
phone: 317-968-9034
Stephanie Buttler brings 15 years of experience in the field of disabilities to her role as Director of Behavioral Health. Stephanie started her career as a Waiver Case Manager before joining Tangram's Behavioral Health team in 2006. She has held various roles within this department, from department coordinator to Behavior Clinician overseeing first Supervised Group Living Behavior Services then Waiver Behavior Services at Tangram.
Stephanie's varied, in-depth experience in the field of disabilities and her management skills made her an excellent candidate to take on the role of Director of Behavioral Health Services at Tangram in 2015. Stephanie uses a team-based approach with positive behavior supports to help create full, meaningful lives for the individuals Tangram serves, which is the focus of Tangram's mission. In this position, she oversees over 100 individual behavioral health cases and is responsible for clinical oversight of Tangram Life Coaching. She is also a Life Coach for Tangram Life Coaching.
Stephanie holds a Bachelor of Arts in Elementary Education from Marian University, and has a Masters of Arts in Special Education from Ball State University. She is also a member of the Indiana Association of Behavioral Consultants (IN-ABC).
Stephanie is married with two children and enjoys being with her family in her spare time.