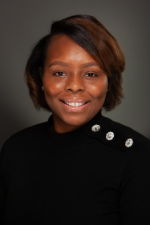 Shybrinn Williams, Assistant Director of Quality and Compliance
e-mail: sbwilliams@thetangramway.org
Shybrinn joined Tangram as the Data and Compliance Support Specialist in February 2019. She served as the Manager of Compliance and Quality Assurance before being promoted to the role of Assistant Director of Compliance and Quality in 2020.
In her role, she is responsible for maintaining the integrity of the agency legal, regulatory, quality assurance, and compliance and risk management systems.
Shybrinn's inspiration is her youngest son, who was born with a rare genic disorder. She has since become a dedicated advocate for individuals with disabilities.
Prior to joining Tangram, Shybrinn gained an abundance of working experience as a data analyst within the financial and health sector.
Shybrinn holds a Bachelor of Science degree in Business Information Systems from Indiana Wesleyan University and is pursuing a Dual Master's degree in Project Management and Information Technology Management.