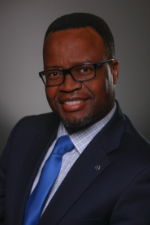 Onias T. Muza, Ph.D, President/CEO
e-mail: omuza@thetangramway.org
phone: (317) 968-9028
Onias joined Tangram as the President/CEO in 2019. He has 20 years of experience in Medicaid Waiver home and community-based programs and 18 years of upper management experience. Onias has worked for agencies based in Indiana and in other states, which gives him a broader understanding of service delivery across the nation. He brings passion, focus, and innovative ideas for improving service delivery and promoting inclusion for individuals with disabilities to his role.
Having worked as a direct support professional, program manager, director of operations, executive director, and CEO of various agencies, Onias is uniquely qualified to identify and address the challenges faced by individuals with disabilities and their families. He is motivated to build a community that supports positive outcomes for people with disabilities and recognizes and celebrates their value. Onias is also a staunch advocate for caregivers who support individuals with disabilities, including DSPs, recognizing the important role that caregivers play in helping individuals with disabilities live fully and meaningfully.
Onias' career in the field of disabilities began early in his life when he lived with cousins and nephews with disabilities.
Onias holds a Ph.D. in Technology, Leadership, and Innovation from Purdue University.