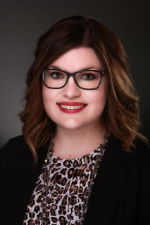 Liz Wrighthouse, M.Ed., Assistant Director of Operations and Behavioral Health--Lafayette Region
e-mail: ewrighthouse@thetangramway.org
phone: (765) 585-2942
Liz Wrighthouse brings years of dedication and experience to her role as Assistant Director of Operations and Behavioral Health for the Lafayette region. In this position, Liz works as a Behavior Consultant and oversees all Tangram behavioral health, community living, and community exploration services in the following counties: Benton, Carroll, Clinton, Fountain, Montgomery, Tippecanoe, Warren, and White.
Liz began her career with Tangram in 2014 as a Behavior Consultant. Prior to joining Tangram, she worked as a licensed School Counselor for several years. It was while working in the schools that Liz developed a strong commitment to support those in underserved populations. Seeing a need for high-quality services to those living with disabilities in the more rural areas of the state, Liz quickly began putting Tangram's mission into practice to help reach more individuals on a personal level with compassion, professionalism, and creativity. Liz has been instrumental in developing and expanding community partnerships and bringing more service options from dedicated Tangram staff to those in the greater Lafayette region.
Liz holds a Bachelors of Arts degree from Purdue University in Sociology and a Master of Education degree from Indiana State University. In her free time, Liz enjoys learning new skills and most recently took up pottery as a hobby. She lives in Attica, IN with her husband, daughter, and two dogs.