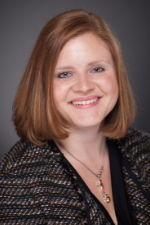 Lindsey Hill, Director of Mission Advancement
e-mail: lhill@thetangramway.org
Lindsey Hill has been with Tangram since 2010. Starting as an intern in the development office, she moved on to hold a variety of positions in marketing and development before joining the senior leadership team in 2018.
In her multi-faceted role, Lindsey manages Tangram's volunteer program, identifies grant opportunities and writes proposals, directs marketing and public relations activities, oversees fundraising, and develops strategies to advance Tangram's mission and enhance the company's brand. Having a personal connection to several individuals with disabilities, Lindsey knows the importance of full inclusion and is motivated to build a world that works for everyone.
Lindsey holds a Bachelor of Arts degree in English Literature from Butler University. She is a Purdue Master Gardener and, when she isn't getting her hands dirty in the garden, she can usually be spotted walking around Broad Ripple or enjoying a book on her porch. She is married and has a dog and two cats.