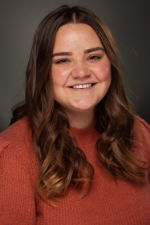 Jennie Hehe, Assistant Director of Community Engagement
e-mail: jhehe@thetangramway.org
Jennie joined Tangram in 2017 as a Community Resource Coordinator and quickly moved into a leadership role as a Community Resource Manager in the same year. Jennie worked with the innovative Community Exploration Program to lead a team in promoting access to meaningful opportunities and personal interests for three years. During this time, she also facilitated Tangram's Self-Advocates group. In her current role as Assistant Director of Community Engagement, she brings her passion, discipline, and relationship building skills to Tangram's client onboarding process.
Jennie graduated from Ball State University with a Bachelor of Science in Exceptional Needs Education in 2017 and a Master of Arts in Adult and Community Education in 2020.
In her personal life, Jennie enjoys taking long hikes and playing frisbee with her two Australian Shepherds.