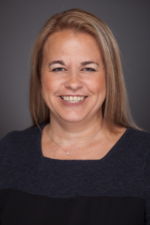 Ari Campbell, Vice President of Operations
e-mail: kcampbell@thetangramway.org
Ari Campbell joined Tangram as Director of Operations in 2015. With nearly two decades of experience in home and community based services, she continues to be passionate about providing supports to individuals with all disabilities so that they can live full, meaningful lives in their communities. Her experience includes managing multiple programs in the Medicaid Waiver environment, program accreditation, and she has served on an Autism Team trained at the Indiana Resource Center for Autism. In her current role as Vice President of Operations for Tangram, she brings strategic leadership to the Community Living, Employment, and Wellness programs.
Ari is a graduate of Indiana University-Purdue University Indianapolis with a Bachelor of Arts in General Studies and holds certificates in both Developmental Disabilities and Human Services. She is an Associate Member of the Developmental Disabilities Nurses Association and serves on the Organizational Development Committee for the Indiana Association of Rehabilitation Facilities (INARF).
Ari enjoys reading and spending time by the water. She is married with three adult sons and two adult bonus daughters.