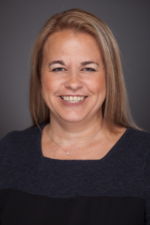 Ari Campbell, Director of Operations
e-mail: kcampbell@thetangramway.org
phone: 317-968-9067
Ari joined Tangram as Director of Operations in 2015 as part of an initiative to increase support to Program Management and Direct Support Professionals (DSPs). With over 15 years of experience in Medicaid Waiver home- and community-based programs and over 12 years of management experience, Ari brings valuable insight to her role and focuses on improving service delivery by creating sustainable solutions for the individuals we serve.
Like many others in this field, Ari began her career as a DSP and has never lost passion for this work. She was also trained at the Indiana Resource Center for Autism as a local autism team member tasked with providing trainings to individuals working with those on the autism spectrum. In her current role as Director of Operations for Tangram, she oversees the community living and supported group living services of over 60 individuals.
Ari holds certificates in both Developmental Disabilities and Human Services. She is currently enrolled at IUPUI and will obtain her Bachelor of Arts next year.